Updated Jan 14 2019
We thought it makes a great tradition to investigate the trends of 2019, as pretty much the same thing we did the last year - you can read about the application development trends of the last year in our article.
On the bright note, it went same as we have predicted it to - here is top 25 list of the most successful apps in 2017, according to TIME magazine. The leaders include:
the AR-based apps like Faceapp and offering the VR-tour through the most brilliant art museums all over the world ArtPassport app.

Among the android app development trends stand out the video/audio editing apps like Musical.ly.

Though the leader in 2018 is, second year in a row, Instagram mobile app - it's on the 5th place.
Are content sharing apps going to retain the popularity power or will there be different ways development takes this year? We've made our own research and are ready to present several top mobile app development trends of 2019.
1. Internet of Things.
If you're keeping up with the tech news lately, you heard this word combination (or the IoT abbreviation) from any digital resource like TechCrunch or Wired, but you might still be wondering what's the meaning of it. (skip the next passage if you already are IoT-aware).
IoT Explained. Finally
According to Forbes, the rule of IoT is "everything that can be connected will be connected, in the future". As humans, we can benefit out of it even on a daily basis. Imagine your car, automatically synchronizing with your calendar, checking that you're late for a meeting and choosing the route with the lightest traffic. Or your home, hearing your steps on the parking lawn approaching, and sending a request for the microwave oven to heat up your dinner? Apart from smart homes, the Internet of Things could be used on a larger scale - for building "smarter" cities, that will control our energy consumption and waste producing. Microsoft, for instance, offers a few smart city concepts.
Back to mobile app technology, there are many factors that indicate that IoT-based apps will be in great demand soon - just look at how successful TADO (Intelligent AC control) is. Moreover, Statista claims the IoT global revenue to increase dramatically by 2020, so it is one of current trends in mobile applications to watch out.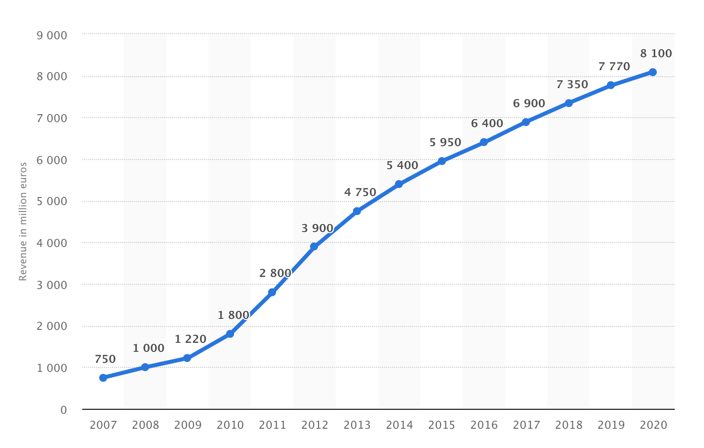 2. Mobile Payments.
As a part of iOS and Android app development trends, using your smartphone to pay the bills of your smart home and shopping is no longer a dream - it is M-commerce now. The term first appeared in 2015, when Android Pay, and later Apple Pay were released - products that allowed to send and receive money transfers with no credit cards involved. Not only it is comfortable for the click-stingy users, but it also lets you garner more data about the cash flow of your users.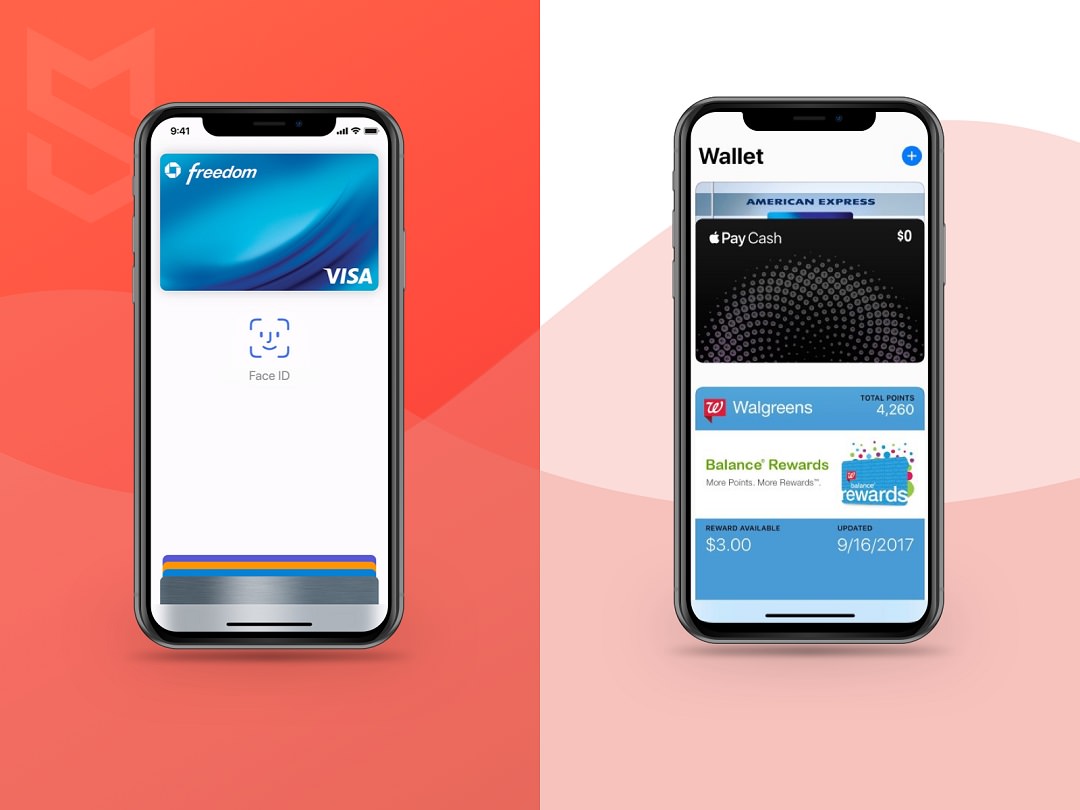 3. Same Old On Demand.
The variety of services covered by on-demand economy includes everything now (developing an app for food delivery, taxes, cleaning, beauty and massage services, healthcare application assistance etc.) but there are many areas they haven't turned upside down yet. On demand working space or an on demand fitness coach could might be the next on demand startups appearing.
4. AR and VR again.
No matter how many words have already been said about augmented and virtual reality, the truth still stays the same - they rock. Bold fact - Snapchat is number 2 the most popular app in the world, third year in a row. So perhaps there is a request on the market for the kind of applications these are. Faceapp, the most popular app of 2017 (TIME magazine again), uses the AR-algorithms to go beyond the limits other photo editing apps have; users apply filters to change their facial expression, age and even gender.
Learn how to implement AR and VR for your business from our article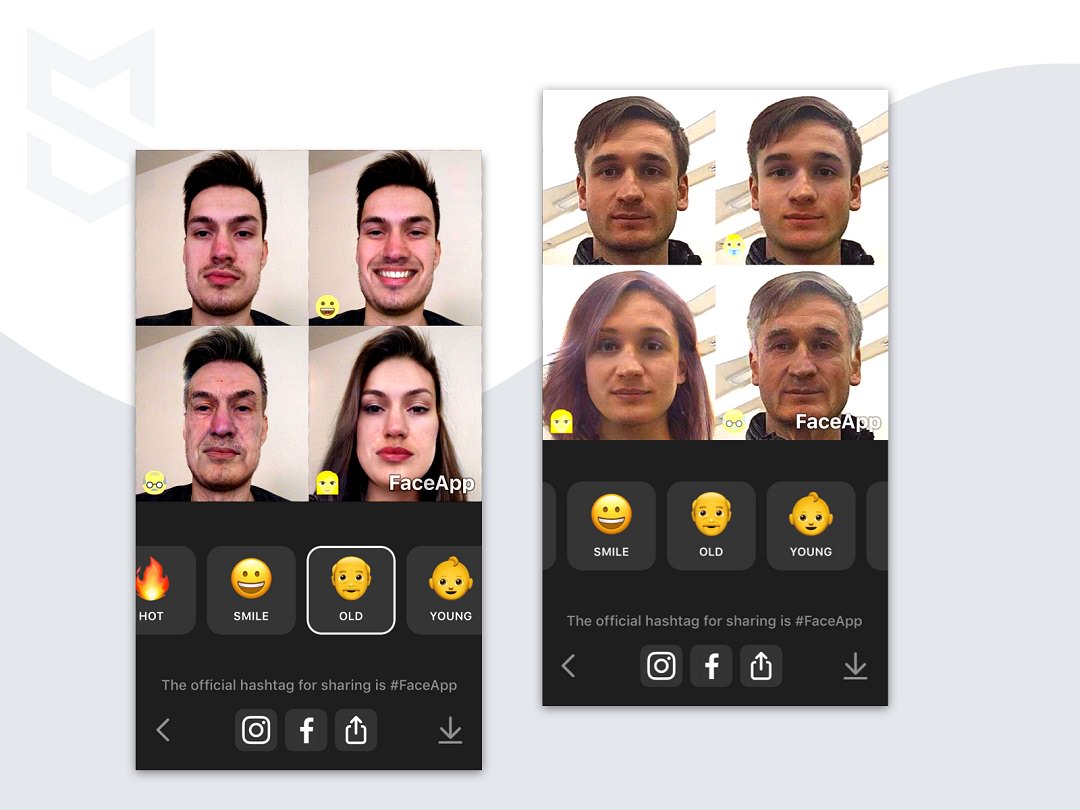 Another example proving that Snapchat's and Prisma's AR filters are a blast is Facebook, that has added augmented reality filters to their camera. TechCrunch claims that apart from the face masks there will also be filters that act in response to your body movements.
Read about the best frameworks selected for AR/VR development
5. Cloud-based apps.
G-Drive, Dropbox and iCloud have become an integral part of our everyday routine - but there is more to arrive. Statista states that the global vendor revenue of cloud-based services is about to hit the point of 522 billion US dollars by the 2026 - comparred to 181.6 they currently cost, which means the revenue will tripple in several years.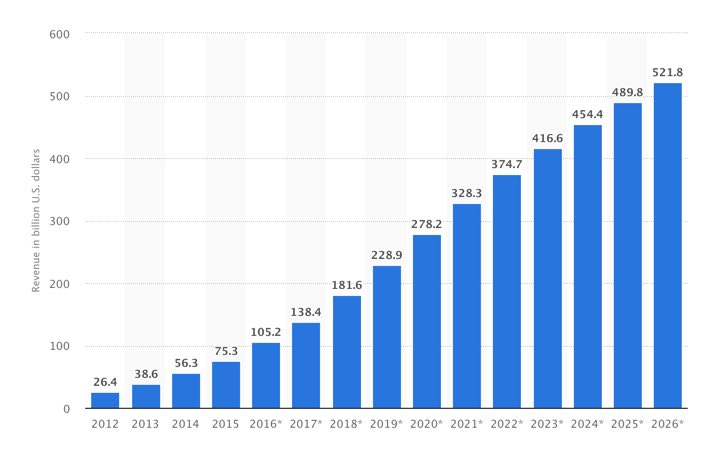 Сloud services have changed the standards of our data storing, managing and processing. Now you can get data faster and simpler you would have gotten in the past, when your device memory was impacted, so we await for more cloud services to develop this year.
6. AI and Chatbots.
The future of artificial intelligence is already here as predicted, even in the world of mobile app trends. There are plenty of applications that took after Apple and Google, creating an artificial smart assistant for you to prank. Take, for example, Allo - an iOS and Android mobile application with the first AI-based chat. It looks like another messenger, but just from the first sight - Allo offers you smart replies based on the text you recieve. What is more, it also has an image recognition feature, so it can suggest even on how to reply to those wanky pics your friends send you.
Another worthy messenger is Telegram - due to it's chatbots that are getting extremely popular with crowds. As messengers are claimed to be the future of all online communication, chatbots are on fire now - they can answer questions, set alarms or reminders, and perform financial operations without human help involved. As they are relatively new to the market, the curiosity for chatbots is predicted to grow; they are likely to be integrated in any up-to-date mobile project soon.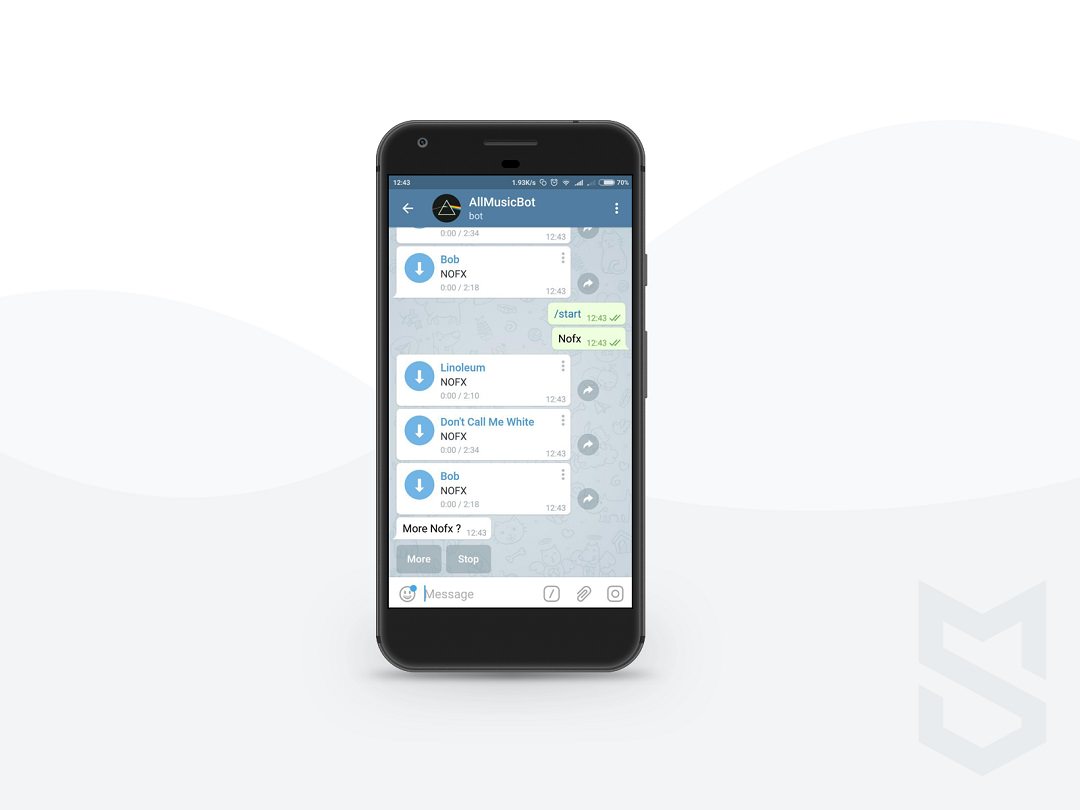 7. Blockchains in Production
Big market players had their eyes set on blockchain technology starting from last year and on. Companies like Oracle even had their own cloud-based blockchain software developed. Furthermore, blockchain is expected to be fiercely pushed in Asian region - where Japan and South Korea have joined forces to create a costs-cutting transactional system.
8. Security Empowering Apps.
With the hacker attacks becoming more frequent, one of the core things for your application to have are the solid security checks.
Security these days is treasured everywhere - from chat applications (Telegram, Whatsapp and Signal in the list), password saving apps ( e.g. True Key app) and products like the SpiderOak. This app not only provides a handy cloud data storage, but also a secure one - all of your data is encrypted and can only be accessed with your password, which SpiderOak doesn't save.
Matter of a fact, one of the hottest mobile app development trends have always been banking apps and their data protection. With cryptocurrencies popularity reaching its peak now, the new tendency is secure crypto-wallets, and let's not forget about M-commerce - phone-to-phone payments should also be impregnable.
You're most welcome to read more about How to Create Cryptocurrency Trading Exchange Platform.
Another turn in-app security could take is a proxy application development. Plenty of Google's services like YouTube, Gmail and Google Drive + a bunch of social networks like Instagram and Twitter are partially or fully-banned in many Asian countries, which results in high demand for the "faster and stronger" virtual private networks.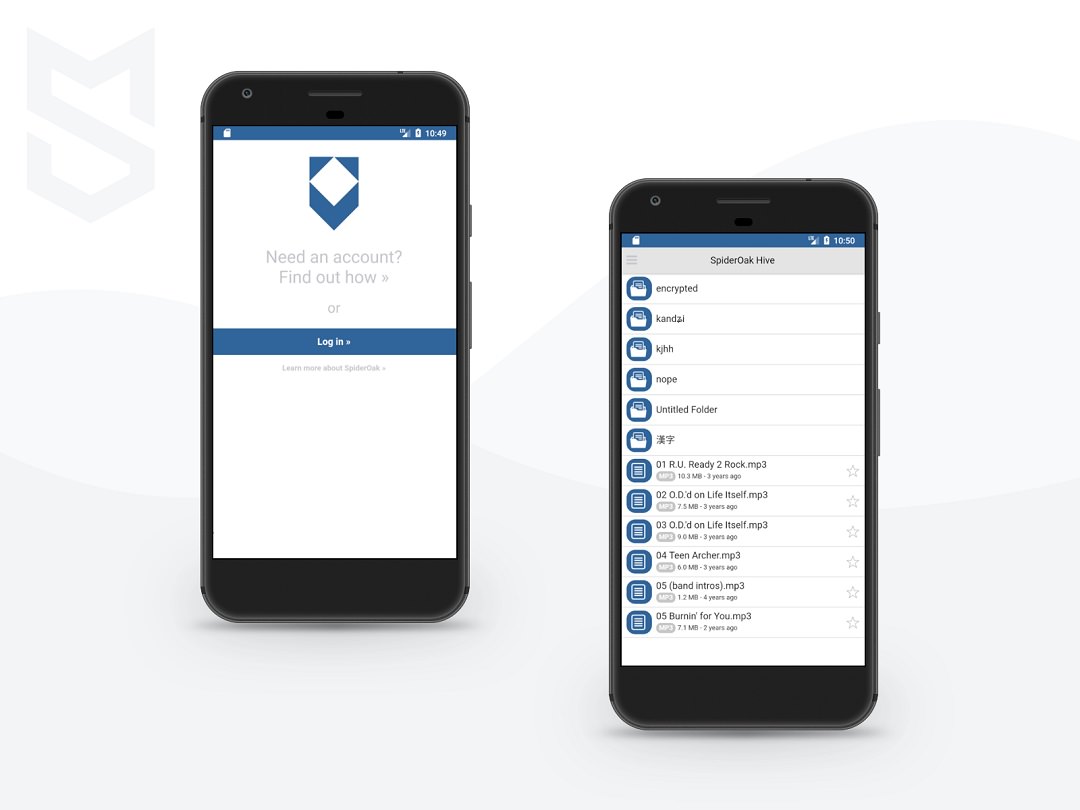 Read also how to secure banking operations in your app
There is one constant thing on Earth - it's change.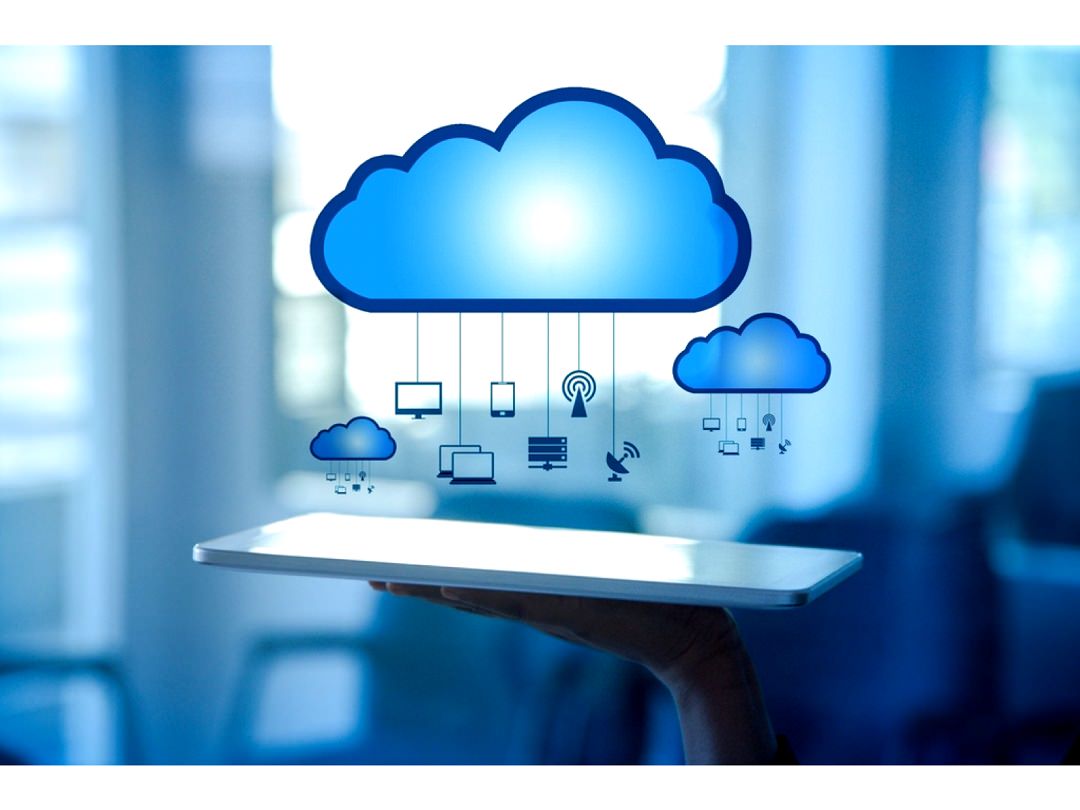 Here they are - the iOS (and Android) app development trends of the upcoming year. Looking at the year-old-article of the 2017 mobile app development trends, we couldn't help but notice that recent trends in mobile technology are all different now - again, proving that technological advancement doesn't stop, it continues to evolve. Perhaps a year from now we will be looking at a completely different trends picture - so maybe it would be wise not to spend another 365 days on waiting, by making an innovation of your dreams instead?
Written by Elina Bessarabova.